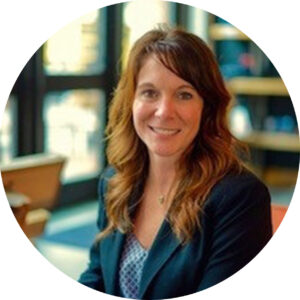 If we wanted Four Points Title & Escrow to be successful, we knew right away that we needed Jenny Copp.
Our Vice President and Director of Marketing is the straw that stirs the drink. She makes the connections that keep us moving forward, and she makes it look easy — even though it's anything but easy.
She is also a fascinating person, so people gravitate toward her. Give a read to this quick Team Member spotlight and you'll get a taste of what we're talking about.
Are you an early bird or a night owl?
Early bird. As early as they get.
I get up at 3:45, and I'm at the gym by 4:30 and I work out until 7:30 and then shower and get ready for work.
What was the first thing you bought with your own money?
I'm obsessed by fashion. So it would probably be an expensive pair of shoes. I love shoes.
Back then, it was all mall shopping, so it wasn't anything crazy like today's brands. Probably just a pair of shoes that I couldn't afford normally, so I'm sure I spent $75.
What's your most-used productivity hack at work?
I have a notebook. I'm great on faces, but I'm not the best with names. So if I'm going to some event, I keep a notebook with names and descriptions and what I talked to them about on a particular day I met them. About their families and stuff. So when I see them, I remember things.
What energizes you at work?
For someone who never played sports, I am a bit competitive. Every new connection I make, every new deal that I get, I just get so excited and pumped up. Of course, I run to Lisa and we get all excited and do our little dance and probably break out in song.
What is the biggest misconception about your job?
That it's super easy. That all I do is sit around and close deals, and I make millions of dollars. When people finally ask me, "What do you do exactly?" I say, "You have to understand, I actually have to find the transactions, bring them to us and close them out. I build relationships with agents, mortgage lenders, banks, the whole deal. The closing is just the reward."